Managing Pages
TucanWebWorld's Manage Pages option offers a compact view of the list of all pages on your site as well as easy access to page-related functions such as change page settings, publish or delete a page, set a Home page or a custom Page Not Found.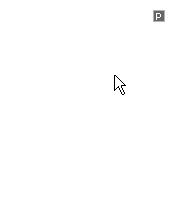 The Manage Pages option is available in the Control Panel menu. To access it, roll-over the Control Panel

icon in the top right corner in Admin view and select Manage Pages. A popup with the list of pages and management functions will open. Let's review them in detail.
Pages Notation
The list of pages will appear sorted by Last Modified date, with the most recently updated page on top. You can also sort the pages alphabetically by clicking on the Name link on top. Each page which is linked in the navigation menu is marked with an asterisk (*). The red

icon signifies that a page is not published - i.e. there are changes done on it that are still available in Admin view only and not visible for visitors to the site. The blue home icon

marks the page that is currently set as your home page. A blue arrow icon

marks the page, which is currently set as your custom Page Not Found - this page will open if a visitor tries to access a non-existing URL on your site.
Editing Page Properties
The first icon in the Actions column

is a short-cut to view and update the Page Properties for the specific page. For details, please refer to the Page Properties tutorial.
Publish Pages
Through Manage Pages you can easily track which pages are not yet published to Normal view and publish several or all pages. To publish a particular page, click on the red

icon. To publish the last changes done on all pages, click on the Publish All Pages button at the bottom of the screen.
Delete a page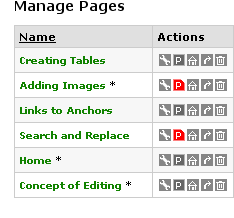 TucanWebWorld features a protection mechanism against broken links - it will not allow you to delete a page which is still linked from the menu or other pages on the site. So, if you wish to delete a page, first make sure that all links to it are removed and then follow these steps:
In the Manage Pages screen, locate the page you want to delete and click the bucket icon.

If you have forgot to remove some reference to this page, a small notification popup will appear. Remove the link and click the bucket icon again.

Your page is now deleted from Admin and Normal view, no need to publish.
Set a Home page
By default, we set your first page as Home page. To set another page as home, open Manage Pages, as described above. In the list of pages locate the one you wish to set as home page and click the Home icon

on the same row. The change will take effect immediately.
Create a custom Page Not Found
If someone tries to access a non-existent page URL from your website, they will see the default TucanWebWorld Page Not Found. You may, however, create your own 'not found' page and redirect such hits to it. Here is how:
Open Manage Pages, as described above.

Track the page you want to set as your Page Not Found

Click the arrow

icon. Now all hits to non-existent pages will be redirected to this new 'not found' page and you will not lose traffic due to mistyped page URLs.
See also

Adding Pages tutorial

Advanced Page Properties tutorial
Manage pages and Navigation FAQ
Avoid losing traffic to non-existing pages on your site